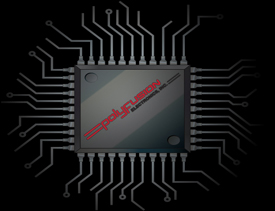 Our Mission
to satisfy OUR CUSTOMERS by:
supplying TOP QUALITY assemblies,
in a TIMELY manner,
at a COMPETITIVE price.
Our History
Polyfusion Electronics, located in Lancaster, NY has been serving the needs of varied industries since its incorporation in 1975. These industries include manufacturers of robotics, medical equipment, energy management equipment, LED lighting, and others in need of circuitry for industrial process controls and automation.

Polyfusion has grown from a two man. "basement operation", into a multi-million dollar company employing dedicated professionals. Our High-Tech custom designed, 20,000 sq. ft. facility provides an environment conducive to excellent productivity and when coupled with stringent process control, results in the production of superior products.
Our Specialty
Design and Manufacture of low to moderate volume, simple, complex, and ultra-sophisticated electronic systems, sub-assemblies, and board level products.
Our Staff
Our staff is comprised of versatile, well trained professionals with capabilities extending into nearly all disciplines of the industry . Research and development is performed by experienced professionals with proven track records and appropriate education. Our manufacturing personnel are well trained, highly skilled, quality conscious individuals who take pride in their work.

The emphasis at all levels is on QUALITY and VALUE. You will find our staff to be HELPFUL, RESPONSIVE, CREATIVE, and EASY TO WORK WITH.
Why Us
The primary advantage of utilizing contract design and manufacturing is cost reduction. If your company's primary function is manufacturing, but occasionally you wish to develop a new product, you have two basic options. The first option is to hire the appropriate engineering personnel, develop the product, then dispose of the people. The disadvantages of this approach are relatively obvious. The second option is to contract the job out to an experienced firm with a proven track record. The only difficult part of this option is finding a company that you can trust, and that will be reliable

Among the advantages that we have to offer are volume buying discounts. We purchase electronic components for most of our customers, which means that we are buying millions of chips, tens of thousands of PC boards and so on. This gives us significant cost advantage over someone buying on a smaller scale, and we pass these savings on to our customers.

We can quote your project usually within one week. If your requirement is for design work, our staff will sit down with you and discuss your project in depth. We will make recommendations or completely handle the entire project, whichever you prefer. We welcome your involvement and will work with your people to achieve the desired end result.

We invite you to visit our facility, look us over and ask questions. We would like to add your name to our long list of satisfied customers.